Work Smarter, Not Harder, to Generate and Manage Leads
It has often been said that working smart is more important than working hard.
That is not to suggest working hard is a bad thing. Far from it. In fact, every agent knows that hard work is often the difference between selling and failing. But working hard without working smart usually leads to failure.
When it comes to generating and managing leads, LeadMQ lets you work smart while leaving the hard work to us. All that means is that you will be able to generate good leads and manage them with ease so that you can focus on what makes you money … your clients!
LeadMQ helps you to work smart by making it easy for you to:
Keep a record of your contact with every prospective client. In seconds, from any device anywhere that allows you to access the Internet, you will be able to track all the contacts you have made or attempted with every lead. You will have instant access to such information as the best time to contact certain leads and a record of when they have or have not been available. With LeadMQ you will minimize wasted calls and wasted time as you follow up on leads. And, remember, LeadMQ is your only option for an all-in-one service allowing you to generate and manage your leads all in the same place. It allows you to monitor everything that has transpired between you and every one of your leads all the way from step one to closing.
Disposition every lead and every contact. Although every lead you generate with LeadMQ should be a good one, some leads will always be better than others. Your time is limited, so it is important to prioritize certain leads over others in order to maximize sales. You need a system in place that allows you to evaluate each lead according to the apparent likelihood that it will result in a sale. Classifying leads in this way can help you determine when and how you should contact a lead, and what steps you need to take in order to make every good lead an even better one.
Make a follow-up plan that is going to work. LeadMQ's calendar feature will make it easy for you to follow up on every lead. Instantly you will have a record of every contact you have had, or attempted, with every lead, and all the significant information you have acquired about that lead. Our system will remind you when it is time to contact the lead again, and you will be prepared in an instant to pick up where you left off last time and take that lead one step closer—or all the way—to closing.
Whether you are an individual agent or an agent working for an agency or large enterprise, LeadMQ will make it easy for you to work smart, not hard, to generate and manage leads so that you can focus on selling. Contact LeadMQ at 1-888-980-7868 for information about why LeadMQ is your best choice for working smart.
Insurance Agent Internet Marketing Survival Guide
LeadMQ is in Closed Beta. For information, contact sales@leadmq.com | Updated: 01/07/2013
Insurance Sales Lead Prospecting for $0
Effective marketing is vital for any sales agent and agency—but it does not take a large marketing budget to market yourself effectively and profitably.
Your target market is on the internet. Agents who excel are often those who make the effort to employ the vast resources available online. The best part is, resourceful agents are often able to interact with their target market at a staggering cost of … $0!
Don't forget to bookmark or share this page as your go-to source for $0 insurance self marketing tips!
FREE Self Marketing Lead Generation Efforts are Easier Than You Think!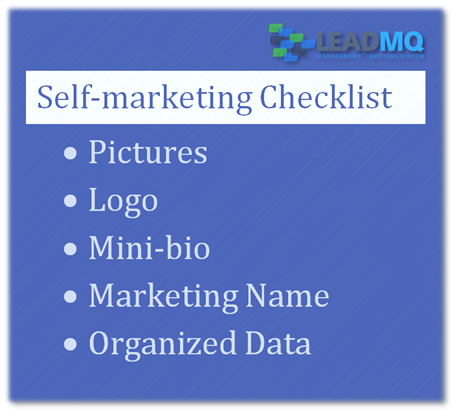 Make the most of your Internet lead generation opportunities with free listings.

Step 1: Pictures | Symbol/Logo | Mini Bio | List of Accomplishments | Unique Nickname/User Handle | Variations

You will need recent high quality photographs of the sort that will add a personal touch to your listings. Give some thought to the sort of pictures you would respond to.

You need a symbol or logo to use in your branding endeavours. You can get started or get some ideas here. It is best to have various pictures on hand so that you can "round robin" avatars to your choosing. Write a bio and have your friend or trusted client proof read it for you (Trust us, your client or friends' feedback is critical to making your Bio meaningful and relevant to prospects). Make a list of accomplishments relevant to the interest of your clients. Come up with a catchy nickname or user handle to use in your marketing efforts to be used on your Social platforms. This should be different from your real name, and it should be something regular readers can identify with.

Examples may include : TexasInsuranceMan LowPremiumsNow IFindLowQuotes etc.

Work on different versions of self-descriptions so that each free listing profile will be unique. Finally, you will need a storage place for documents and passwords. You may choose to create a new e-mail account—possibly a Hotmail or Gmail account—to use only for online marketing registration and notifications.

Information that follows was provided, and current, as of November, 2013.

After spending 1-2 hours getting through the steps above, you'll be ready for:
Top 5 Social Profiles For Insurance Professionals … Don't Be a Stranger
Step 2: Facebook | LinkedIn | Twitter | Google+ | Pinterest
1. Facebook is about making your insurance business accessible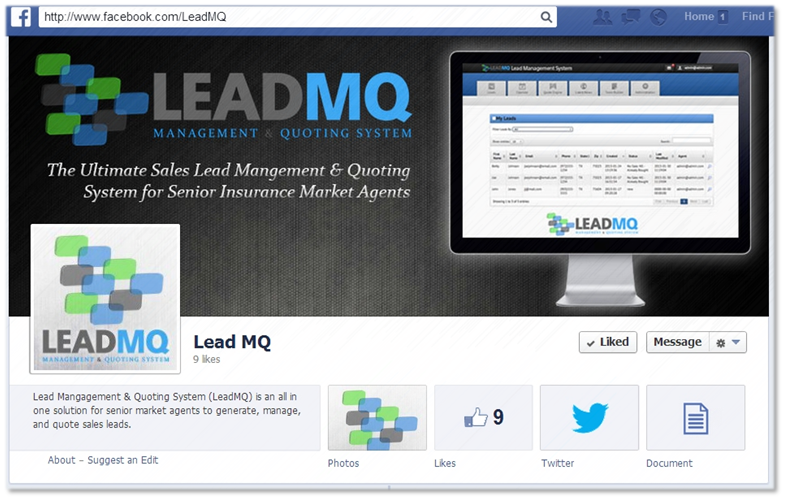 Facebook is a proven, no-cost tool for promoting your business.

To create your profile, visit Facebook's Create a Page. Once your profile is created, you will be able to present information to potential clients and forward a link to friends, associates, and leads. While all of this is free, for a fee you will also have the option of promoting Facebook sponsored ads for your professional profile on Facebook.

LeadMQ.com on Facebook (facebook.com/leadmq)
View examples of Insurance Agents on Facebook.
Farmers Insurance Agent on Facebook with 800+ likes | Medicare Supplement Broker on Facebook with 3500+ likes | Insurance Agency on Facebook with 150+ likes | Insurance Agent Forum on Facebook
FACEBOOK TIPS: 1. Facebook Optimization Tips (see pictures) 2. 7 Ways to Optimize Your Fan Page (MOZ Blog) 3. 100 Facebook Marketing Tips and Ideas for Insurance Agents (InsuranceSplash) 4. How to Create a Facebook Page for an Insurance Agency (Chron)
2. LinkedIn is about your professional relationships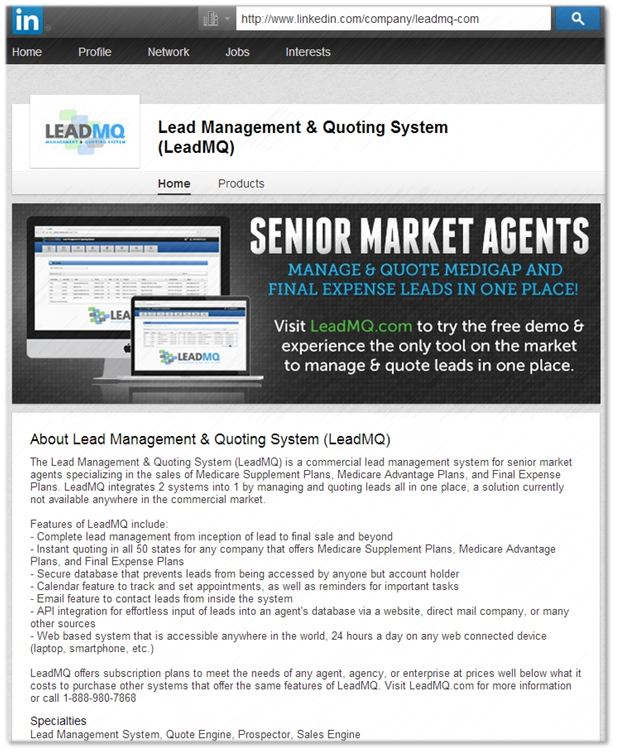 LinkedIn has become a vital tool for increasing visibility, getting in front of people interested in your products, and developing important business connections.

Ways to optimize your LinkedIn account include personalizing your profile with pictures and integrating your Twitter feed with your LinkedIn profile. As with Facebook, for a fee you can purchase LinkedIn ads to market and grow your professional and customer connections.

LeadMQ.com on LinkedIn (linkedin.com/company/leadmq-com)
View Licensed Insurance Agent profiles on LinkedIn. View LeadMQ on LinkedIn.
LINKEDIN TIPS: 1. 9 Ways for Agents to use LinkedIn with Success (Insurance Leads Guide) 2. How to optimize your LinkedIn profile (Social Times / infographic) 3. How to generate leads using LinkedIn (HubSpot / PDF)
3. Twitter is about keeping communication relevant and simple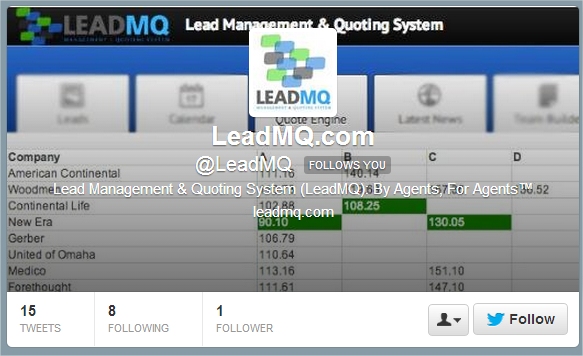 Twitter continues to grow, and allows agents to engage in ongoing, meaningful communication with prospective clients.

Re-tweeting content of interest to your market—and not just to you—is vital, as Florida agent Drew Roberts knows well. As many agencies, including MedicareMall of Texas, have found, providing answers to tweeted questions can result in great leads. For a fee, the Twitter Ads platform allows you to promote and sponsor tweets.
LeadMQ on Twitter (twitter.com/leadmq)
View Twitter Insurance Agent examples.
Insurance Agency on Twitter with 2,500+ followers | Insurance Agent on Twitter with 400 followers
TWITTER TIPS: 1. How Should Insurance Agencies use Twitter? (Insurance Journal) 2. How to use Twitter to find Sales Leads (Twitter Marketing for Dummies) 3. Find Prospects Using Twitter Advanced Search (InsuranceSplash)
4. Google+ is about visibility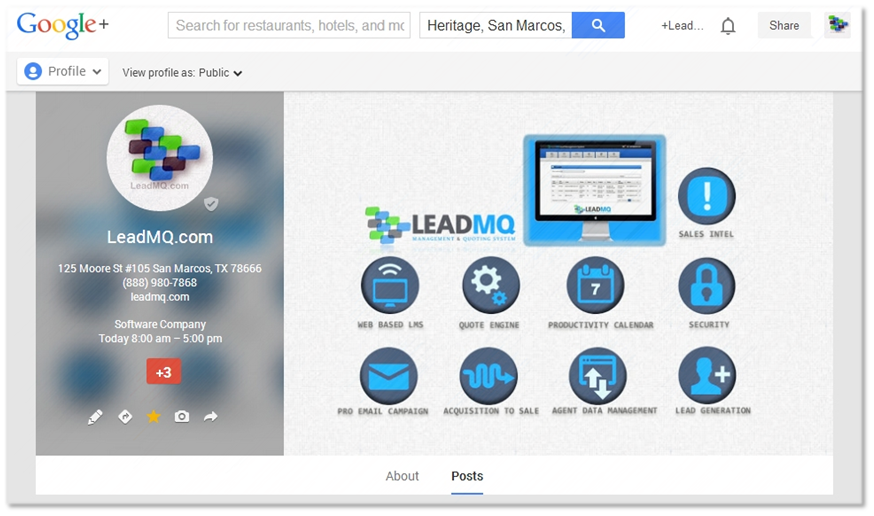 Google+ provides another showcase and marketing opportunity.

It allows you to present fresh content and share links. Agents specializing in senior health insurance—or any kind of health insurance—are well advised to check out a Google+ profile that has proven effective for your marketing strategy.

LeadMQ on Google+ (google.com/+leadmq (pending)) View Google+ Insurance Agent examples.
Insurance Agency on Google+ with +750 | Insurance Agent on Google+ with +100
GOOGLE+ TIPS: 1. How to set up your insurance Agency Google+Page In 15 Minutes or Less (AgencyUpdates.com) 2. Google+: Social Media Tools Insurance Professionals Don't Understand (RyanHanley.com) 3. Six Ways to Generate Leads with Google+ (HubSpot) 4. Google+ Gets Insurance Agents More Customers (YouTube Video)
5. Pinterest is about visual engagement

Pinterest allows you to post pictures that can attract prospective clients.

Photos highlighting gardening, the outdoors, and food are proven winners. Most Pinterest users across all age groups are female, so it's usually best to post content attractive to that prospective client base. Links to your blog and other important content are important, but keep in mind that pictures are king on this site. Your profile should make your professional identity and main products absolutely clear.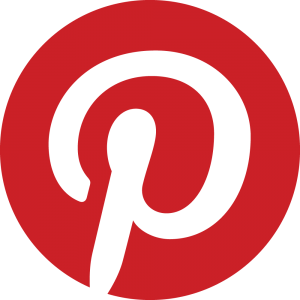 LeadMQ on Pinterest (pinterest.com/leadmq)
View examples of Insurance professionals on Pinterest. (Join as a Business)
Insurance Agency on Pinterest with 100+ Followers | Insurance Broker on Pinterest with 600+ Followers
PINEREST TIPS: 1. Pinterest Tips of Businesses (Pinterest Official) 2. 13 Creative Uses of Pinterest for Insurance Marketing (Confessions of an Insurance Goddess) 3. Pinterest Leads to Sales (InternetRetailer.com)
Five Free Business Listings You Will Definitely Want to Use
Step 2: Google Places | Bing Maps | Yahoo! Local | Merchant Circle | Yelp

Business listings are your online business cards.

You will definitely want listings as an independent agent or agency. Putting your top trusted name brand carriers on your free business listings lends you credibility.
6. Google Places and 7. Bing Maps are about helping customers find you and your location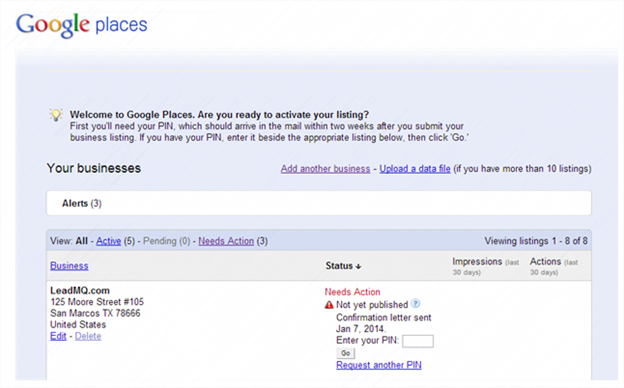 After activating your listing, your business will appear on Google Maps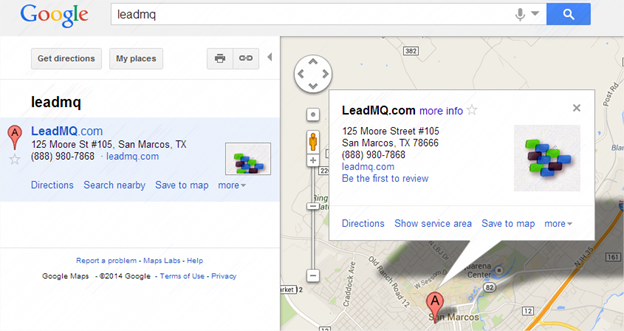 Google Places emphasizes location in its searches, and it is important to optimize your listing by getting citations on other websites.

It is important that all citations present accurate information about your business. Positive reviews can also help a great deal. Connecting with other local businesses is another optimizing method that can be advantageous to all businesses involved.

Create a new Google Places profile with Google Places for Business.

GOOGLE PLACES TIPS: 1. Google Places For Business Adds Reviews Section (Search Engine Roundtable) 2. Utilizing Google Places & Google+ for your Insurance Agency Marketing (Tosten Marketing) 3. 8 tips to supercharge your Google Places for Business Listing (Matt Fielding SEO)
7. Create a Listing on Bing Maps after creating a new Microsoft Live or Hotmail account- you can use your existing one too.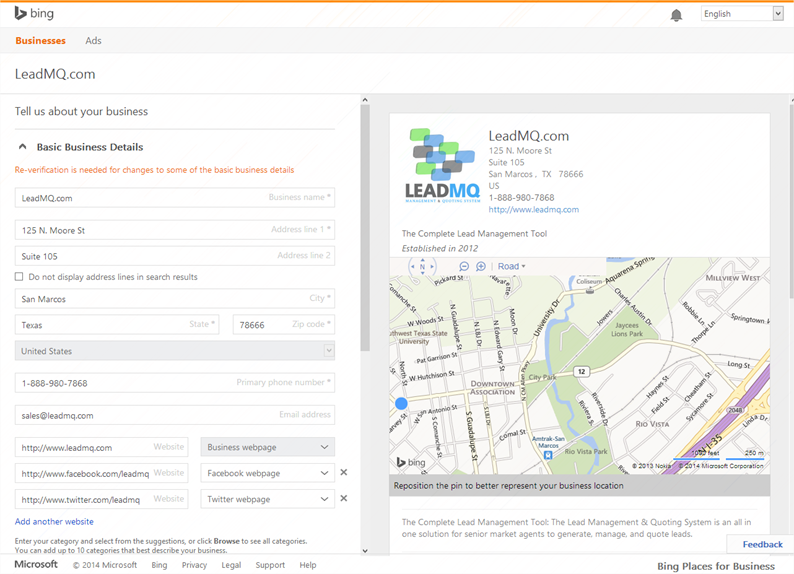 Bing Maps allows you to get your business on the map. You may have noticed how certain businesses are highlighted on some online local maps. A surprising number of people searching for one particular location or business are alerted, through tools such as Bing Maps, to other businesses or local destinations they are interested in. Those map references to particular business do not appear by accident; they are the result of merchants and professionals taking the wise step of getting their businesses listed.
View Insurance Agents on Bing Maps.
BING MAPS TIPS: 1. How to Set Up Your Company in Bing Business Portal (S.E.J) 2. How to Submit Your Business To Bing Maps (Step by Step Guide) (RocketyRoo) 3. Getting Started with Bing Places for Business (All Things Web Audit)
8. MerchantCircle.com is a business directory marketing platform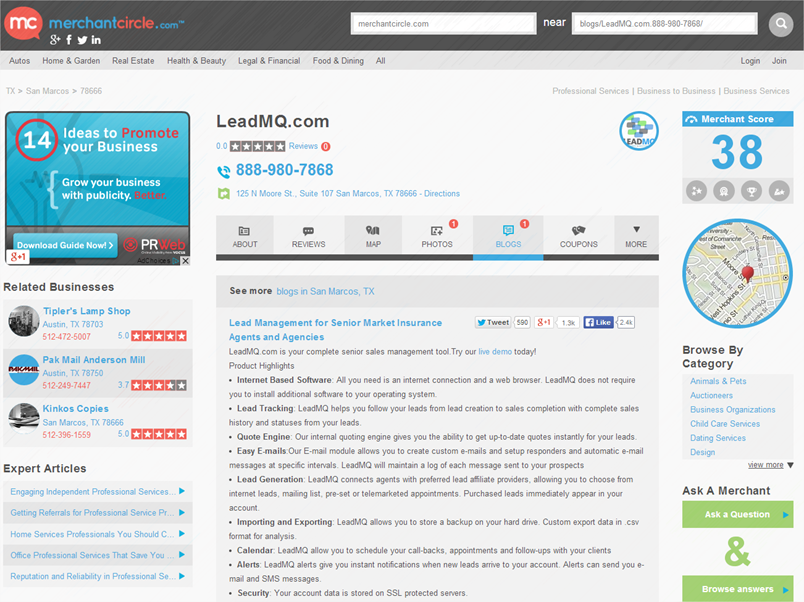 MerchantCircle.com is fast gaining a reputation as an indispensable listing tool for agencies and other business of all types. Users simply type in the location and kind of business they are looking for, and they are directed to a list of local businesses in that category. Appearing near the beginning of the list, of course, is a great advantage, and a Google ad can get you near the very top. MerchantCircle also offers a pay-per-call program, which ensures you will receive some inquiries—which may pay off if you have a high call conversion rate.
View Insurance Agents on MerchantCircle.com.
MARCHANTCIRCLE TIPS: 1. How To Submit Your Site to MarchantCircle (UpCity) 2. Merchant Circle Customer Service Tips (Small Business Search Marketing) 3. Joining MerchantCircle for Dummies (Dummies.com)
9. Yahoo! Local free listings can be created with your Yahoo! or Y!Mail account.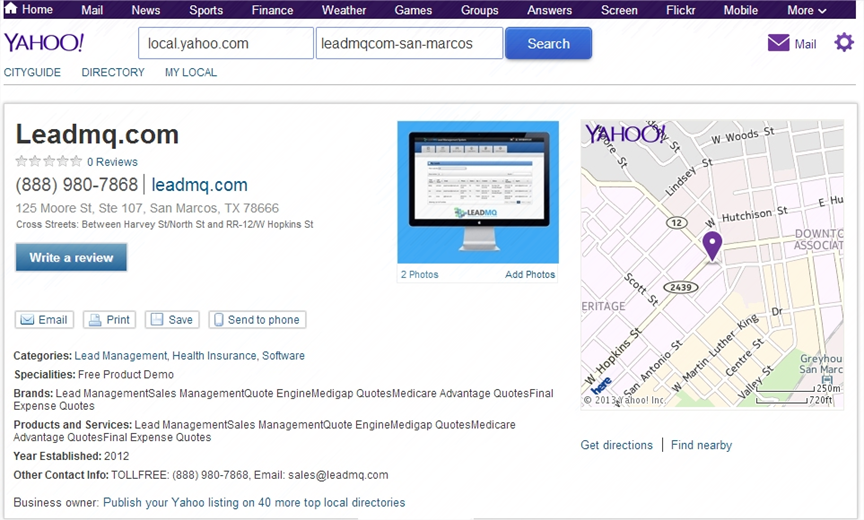 Yahoo! local business listings are easy to set up and, like other listings listed here, available at no cost. If you wish to spend about $10 a month, you can get an enhanced listing allowing you to include extra pictures or information with your listing. A free listing, however, is more than sufficient to ensure potential clients are able to find you while searching for agents who can provide the insurance they are looking for. Yahoo! also features a premium directory listing starting at $299. (Add a free Yahoo! Basic Listing or Add a Business to Yahoo! Small Business)
View Insurance Agents on Yahoo Directory.
YAHOO! BUSINESS TIPS: 1. How to Set Up and Optimize Your Business Yahoo! Listing (Search Engine Watch) 2. How to Update your Yahoo! Local (Yext)
10. Yelp! is a valuable PR tool. It makes it easy for clients to give you raving reviews and ways to resolve complaints so you can improve your business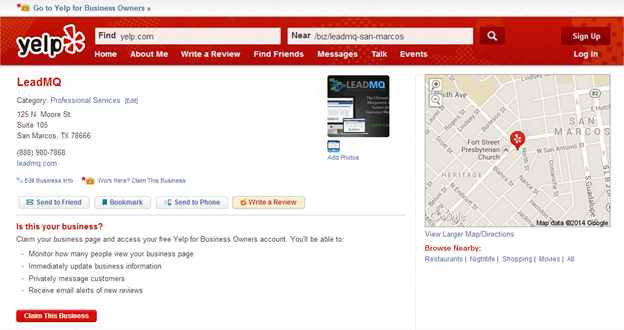 Yelp is another listing you will definitely want to have. Optimize by providing plenty of photos. It is advisable to have a link on your website to your Yelp page. Yelp is heavy on reviews, which can make or break a local business. Make it easy for satisfied customers to post positive reviews, and take care to respond to any negative reviews that appear. Often, communication of this sort is all it takes to turn a negative into a positive. Yelp for Business Owners.
View Insurance Agent examples on Yelp.
YELP TIPS: 1. How to Add A Business To Yelp (wikiHow) 2. How to Make the Perfect Insurance Agency Yelp Profile / Review Generation Tips (Insurance Splash) 3. This is Why Yelp Reviews Work for Agencies (Ryan Hanley)
11. Blogging … One of the Best Ways to Interact with Your Market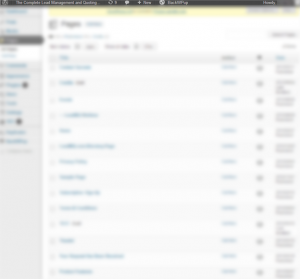 LeadMQ.com runs on WordPress
Blogging is one of the most cost-effective ways of interacting with people interested in your products and services—as long as you go to the trouble of making it worth their while to check in on your blog several times a week or even daily.
Below are five free blogging websites that serve agents very well. Choosing at least one of these sites, putting out valuable information at least two to three times a week (or, better yet, daily), and giving visitors to your blog a chance to interact with you can provide plenty of visibility and lead to sales.
You should be aware of the 80/20 rule—meaning, 80% of your blog's content should be about topics of customer or community interest, and only about 20% should be about the products you sell. Posts of 300-400 words are usually sufficient. Offering easy-to-read, informative, and interesting posts will help you to develop a positive relationship with people who may be interested in your products. Using your blog primarily for hard-sell purposes will often do just the opposite.
Whichever blogging website or websites you choose, it is nearly always advisable to check out blogs sharing a similar focus to yours. A competitor is a competitor, of course, but there are other businesses and blogs serving a similar clientele to yours, or covering topics similar to those your blog covers. Sharing information and links with other blogs and bloggers may well pay off in a big way for them and you.
Free Blogging Sites to Consider: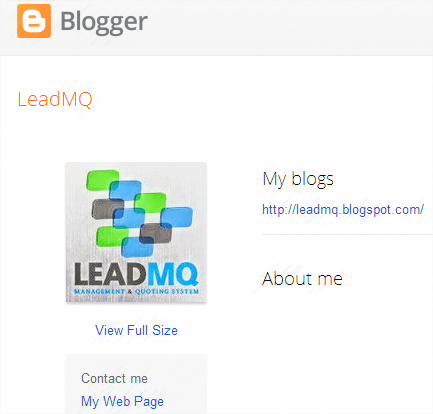 11a. Blogger.com is considered one of the easiest blogging sites to use.
You need a Google account to start, but within minutes you will be able to create your blog. Blogger allows you to present all the key information any potential client needs to know about you and your products, and from there you can focus on other topics or matters of interest to your target market.
View Insurance Agent Blogger pages.
BLOGGER TIPS: How to start a blog on Blogger.com (wikiHow) | 50 Insurance Agency Blog Ideas (Insurance Marketing HQ) | 30 SEO Tricks for Blogger (MBT)
11b. WordPress.com is another free blogging site, while WordPress.org requires hosting registration. Getting started on the self-hosted, free WordPress.com can take as little as about 20 minutes with the help of easy tutorials available on the Internet—and it is hard to think of how an agent could better spend 20 minutes for the sake of self-marketing. Signup for WordPress.com. View Insurance Agent WordPress blogs.
WORDPRESS TIPS: How to SEO my WordPress Site (Nathalie Lussier) | SEO Friendly WordPress in 12 steps (Search Engine Watch) | 25 Best WordPress Insurance Agency Themes (ResponsiveThemes)
11c. Tumblr.com is an easy-to-use site that allows you to post brief messages, graphics, videos, and links in moments. You may not want to use Tumblr as your primary blog site, but for attention-getting it may be just the ticket. A Tumblr account is easy to set up, and can quickly be integrated with your website, Facebook account, and Twitter feed. View Insurance Agencies on Tumblr.
TUMBLR TIPS: How to use Tumblr for SEO and Social Media (MOZ) | Step by Step Guide to Using Tumblr Effectively for SEO and Social Media Marketing (Search Engine Journal) | How to Create a Tumblr Account (wikiHow)
Blog.com is another leading zero-cost blogging option offering a variety of features and easy use. Blog.com makes it easy to integrate your use of various social media, andprovides good support in the event of difficulty. If you have further questions about Blog.com, the Blog.com support page is a good resource.
Jux.com is all about graphics. If you are looking for a site where you can post plenty of photos and videos, Jux may be just the platform for you. It allows you to upload from your hard drive or from various social media accounts. Many design features make it easy to get just the look you want, and keeping current by adding new content is simple.
Use Bookmarking to Drive Traffic
As one of the best tools for interacting with your market, social bookmarking can greatly increase traffic and get people discussing your products. Users can educate themselves about what you have to offer, and can share their needs and concerns with you. But the best thing about bookmarking is the $0 price tag.
Six Can't-Miss Bookmarking Sites:
Reddit.com makes it easy to post videos, provide links, and get people talking. It is important to post on the most relevant sub-reddits in order to maximize your efforts, and once you do that you can get involved in discussions and let potential clients know all about how they can benefit from your services. You can also interact with other agents and be a frequent contributor to Reddit.com/r/insurance.
Stumbleupon.com directs users to web content they are likely to find useful. Submitting useful content and making connections through the site can greatly increase your web traffic. With Stumbleupon, a "fun" approach usually proves more effective than a serious, businesslike approach, as a number of insurance agents have found.
Digg.com is more oriented toward news content. Finding news sources through Digg.com and adding relevant comment can help draw people toward your services, but be aware that there can be penalties if you are too direct in soliciting business or website hits.
Delicious.com makes it easy to browse and bookmark web content relevant to your business. By commenting on existing material and contributing your own material for others to discuss, you can often spark the sort of interest that drives visitors to your website. Some agents have found Delicious.com a useful tool for more effective blogging.
Technorati.com is another useful blogging tool. Essentially, it is a search engine for blogs. Setting up an account and getting your blog listed on Technorati is likely to improve your blog ranking significantly. Technorati also makes it easy to share backlinks with bloggers who may have interests similar to yours.
Using www.scoop.it allows you to create, publish, and organize material of interest to your market. Scoop.it is topic-based, making it easy for potential clients to find you. You can post videos and various other instructional materials, and can easily keep content up-to-date.
Sales Start with Leads—and They Don't Have to Cost Anything
There are agents who pay dearly for leads. Fortunately, you don't have to be one of them, because there are free opportunities available that make it easy to reach out to a lead as soon as he or she expresses an interest in your product. But be sure to observe professional etiquette by sending a personal reply to each lead, because spamming information to leads may get you banned.
Five Free Online Lead-Generating Opportunities:
InboxQ is a free app that integrates with your Twitter account and tracks keywords used by Twitter users. It allows you to locate Twitter questions relevant to your products so that you can provide answers quickly. As InboxQ founder Joe Fahrner says in a Forbes report, Twitter users tweet tens of thousands of questions per day. When a potential client is hungry for an answer, a timely response might just result in a sale.
HelpaReporter.com allows you to list your areas of expertise so that reporters and bloggers may contact you as a news source. While there are premium options as well, being a member of HelpaReporter (or HARO, for "Help a Reporter Out") is free. Getting recognized as a news source can benefit your business, and having access to HARO's list of experts can benefit your blog.
Google Docs at docs.google.com allows you to create a list of some sort that followers can access and share regularly. It can be helpful to put a link/e-mail/mini-ad at the top banner of all pages to direct more traffic and potential leads to your website.
SocialMention.com
makes it easy to track references to your products or brand in the social media world. You can also track references to topics of interest and even to your competitors. Knowing who is saying what about you can help you to address concerns, answer questions, and drive up business.
allows you to search social media services for any mention of your products or brand. You will be able to connect instantly via Twitter with sources mentioning your brand. You will also be able to search for any mention of your competition or any topic of interest to your business.
Dazzle 'em with Your Good Looks
Why not talk directly to potential clients by posting videos? The possibilities are as endless as your imagination, and you can post videos that can be seen from anywhere across town or around the world.
Five Great Media and Video Sharing Sites for Agents:
Youtube.com is a site you probably already know well for its entertainment value, so why not entertain potential clients? Especially in tandem with Google+, Youtube makes it easy to keep new, dynamic content coming to your target market.
Vimeo.com prides itself on being easy to use. You can upload videos effortlessly, and users can easily find your videos—and even start a buzz about your agency or products—by searching for videos about insurance-related topics.
DailyMotion.com is an international video sharing site, second in size worldwide only to Youtube.com. Videos posted and featured on DailyMotion.com are usually of an entertaining nature, so be sure to put forth your best work!
Metacafe.com tries to set the bar fairly high when it comes to posting video material. Metacafe users rate videos, and informative, entertaining material that stands out for its originality is a good bet to score well and get a buzz going.
Veoh.comVeoh is another great site to direct potential clients to—and to draw potential clients from. Most of all, as with the other video sharing sites we've listed here, the cost couldn't possibly be better.
Dazzle 'em by Keeping it Simple
It doesn't always take the latest in technology to connect with a client. Documents, slides, and presentations can be vital tools in self-marketing, and certainly should not be set aside as tools from the past.
Best Five Document and Presentation Sharing Sites for Agents:
Slideshare.net allows you to upload informative presentations. Slideshare.net makes it easy to keep new content flowing by producing series of mini-presentations addressing concerns and questions posed by potential clients.
Scribd.com has an avid audience of 80 million users a month, many of whom are eager to read well-presented and informative material. If you're up to writing a book aboutyour services, your perspective, or anything of significance—or if you just want to present information that may educate and broaden your market—all you've got to do is convert your pages to PDF files and upload away.
Docstoc.com, oriented to businesses such as yours, makes it easy to upload documents, articles, videos, and presentations geared to a general audience or to your specific market.
Screencast.com is a high-quality video sharing site. You can control who accesses your videos, or you can make your videos available to all users. A premium service is available for a small fee, but the free version provides good quality.
Issuu.com allows you to upload publications to a massive audience whose members can connect with your work through an easy search—all at absolutely no cost!
Organization Equals Efficiency Equals Sales
In business or almost any walk of life, it's not how much total time is put into an endeavor, but how much smart time, that is likely to play heavily into success or failure. Managing projects, like managing leads, is vital. It's not the number of projects you've got going that determines productivity and likelihood of success, but the number of well-managed, often integrated, projects designed to increase your market and sales.
Top 5 Free Online Project Management Solutions for Insurance Agents:
Freedcamp.com allows you to assign, juggle, and track as many projects as you're ever likely to have going. Whether using the premium or free version of Freedcamp, you can easily control access and make sure members of your team are on the same page and avoiding wasteful repetition.
Zoho.com, known for its innovative applications, allows you to manage projects and even your company finances with ease from any location—and it takes only seconds to create a free account.
Teambox.com offers its project management capabilities for free to groups of five or less managing five or fewer projects. There is a small fee for larger groups and larger project loads.
Medicare Prescription Drug Plans and the 2013 Low Income Subsidy
A PDP and LIS Guide for Agents
Every prospective client is depending on your expertise and first-rate advice when it comes to finding the best healthcare protection at the best possible price.
Dedicated to going the extra mile for every client or prospective client, you explore all the options and help the people you serve by leading them to the most comprehensive and affordable coverage available.
But, unfortunately, it's not always affordable enough—or so they think.
With millions of Americans living more frugally than ever, it's vital for an agent to know every moneysaving option available to everyone he or she serves. That doesn't mean you're looking for ways to cut corners with regard to the coverage you get for your clients. Far from it. As a healthcare professional dedicated to providing the best in service, you're not about to settle for second-rate coverage for your clients simply for the sake of making a sale.
Too many Americans settle for Original Medicare because they think it's the most affordable option. But with all the gaps in Medicare Part A and Part B coverage—and the out-of-pocket expenses that can torpedo a senior's budget—those people often find that Original Medicare isn't the most affordable option at all.
Factor in the cost of most prescription drugs—drugs many people who need them say they can't afford—and it's almost impossible to make a compelling case that Original Medicare on its own is the best option for anyone. That's why agents around the country are advising seniors to invest in Medicare Part D prescription drug plans.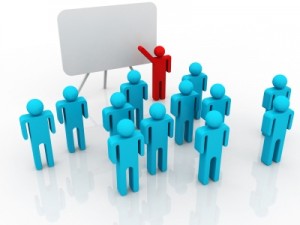 Medicare Part D
Medicare Part D plans offer prescription drug coverage. With the high cost of prescription drugs, many seniors find Part D prescription drug plans (PDPs) an essential tool for keeping drug costs within their budget. Agents on the lookout for their clients' best interests often recommend Part D prescription drug plans to help keep prescription drug costs in check.
Participation in Part D can be especially helpful for people who have high prescription drug costs and no current prescription drug coverage. Medicare prescription drug plans pay for generic and brand name prescription drugs. To receive Part D benefits, participants must enroll in plans offered by a Medicare-approved private insurance companies. Availability of Part D plans varies from area to area.
There are two options when it comes to obtaining Medicare prescription drug coverage. One option is to join a Medicare prescription drug plan to add prescription drug coverage to Original Medicare, or to some Medicare Cost Plans, Medicare Private Fee-for-Service (PFFS) Plans, and Medicare Medical Savings Account (MSA) Plans. The other option is to get prescription drug coverage through most Medicare Advantage plans, particularly Health Maintenance Organizations (HMOs) and Medicare Preferred Provider Organizations (PPOs).
As is the case with Medicare supplement insurance and Medicare Advantage plans, it is vital to shop the market on behalf of your clients in order to ensure they're getting the best drug coverage possible for their dollar. Cost and coverage are two factors that have to be examined under a microscope—and agents who scour the market on behalf of their clients most often find what appear to be the ideal PDPs for their clients at prices that seem very affordable.
But we're living in tough economic times, remember. For some seniors every dollar counts, and the benefits of long-term gain are often outweighed by the difficulties monthly premiums and other costs associated with PDPs may pose. Paying those costs is almost certain to be beneficial in the long run, but the long run often isn't always the major concern for seniors living on a tight budget—and it can break an agent's heart when someone walks away from drug coverage he or she needs in order to save a little money in the short run.
Fortunately, there is a Low-Income Subsidy available to assist some people who may otherwise feel they cannot afford to enroll in a Part D prescription drug plan. This means, along with all the helpful information you provide clients about their coverage options and costs, it's important to know where each person you advise stands with regard to eligibility for assistance in paying for drug coverage. No one who is eligible for Medicare ought to go without prescription drugs they need, and one of the greatest services an agent can perform is to show clients with limited financial resources that they can indeed afford prescription drug coverage they thought they would have to do without.
Extra Help
Also called Extra Help, the Low-Income Subsidy (LIS) is a federal program designed to help people with low income cover costs related to participation in Medicare Part D prescription drug plans.
The Low-Income Subsidy program is administered by the Social Security Administration, and, according to SSA.gov, is estimated to be worth about $4,000 per year to low-income people enrolled in prescription drug plans.
To be eligible for the LIS, an applicant must:
Be a resident of the 50 states or the District of Columbia
Be enrolled in a Medicare prescription drug plan
Have limited income and assets
The Low-Income Subsidy can help cover costs of Medicare Part D monthly premiums, annual deductibles, copayments, and certain other costs associated with prescription drug plans. Enrollment in any Medicare-approved drug plan entitles a qualified applicant for the LIS, regardless of whether the individual is enrolled in Original Medicare or a Medicare Advantage plan. For people enrolled in stand-alone Part D prescription drug plans, Extra Help applies only to their prescription drug plans and not to Original Medicare or any other coverage supplementing or replacing Original Medicare. For people enrolled in Medicare Advantage plans that include prescription drug coverage, Extra Help applies only to the Medicare-approved prescription drug coverage included in those plans.
The Social Security Administration determines eligibility for the Low-Income Subsidy. Income and asset limits change from year to year, but for 2013 general limits are as follows:
[Table —                                                      Maximum Income Maximum                      Value of Assets
Married living with spouse                         $23,265 per year                                       $26,580
Married, not living with spouse                   $17,265 per year                                       $13,300
Single or widowed                                     $17,235 per year                                        $13,300 ]
Assets considered in determining eligibility for Extra help include:
Real estate other than the primary home
Savings
Investments
An applicant's primary home is not included regardless of its value. Among other assets the SSA excludes when determining eligibility are vehicles, life insurance, burial plots, personal possessions, and back payments from Social Security.
Figures given above are general limits determining eligibility for Extra Help. Up to those limits, people awarded Extra Help qualify for either a full subsidy or a partial subsidy depending on their income during the previous year as a percentage of the federal poverty level (FPL).
For 2013, the federal poverty level in the 48 contiguous states and the District of Columbia has been set as follows:
$11,490 for a person living alone
$15,510 for a family of two living in the same household
$19,530 for a family of three living in the same household
The full subsidy income limit of 135 percent of the FPL means that people otherwise qualifying for Extra Help must earn an income not exceeding:
$15,511.50 per year ($1,293 per month) if single or widowed
$15,511.50 per year ($1,293 per month) if married but not living with a spouse
$20,938.50 per year ($1,745 per month) if married and living with a spouse
The partial subsidy income limit of 150 percent of the FPL means that people otherwise qualifying for Extra Help must earn an income not exceeding:
$17,235 per year ($1,436 per month) if single or widowed
$17,235 per year ($1,436 per month) if married but not living with a spouse
$23,265 per year ($1,939 per month) if married and living with a spouse
Poverty guidelines for Alaska and Hawaii are different. Although the same percentages of the federal poverty level apply to LIS eligibility in those states, they translate to higher dollar amounts. For further information specific to Alaska and Hawaii, refer to the Dept. of Health and Human Services document, 2013 Poverty Guidelines.
What Does Extra Help Cover?
For people receiving the full subsidy, the LIS typically covers premiums and deductibles associated with prescription drug plans. While the full cost of premiums may not be covered in some cases, the Low Income Subsidy pays amounts ranging from about $20 per month (in Nevada) to about $43 per month (in New York) to help people with low incomes pay their monthly Medicare Part D premiums. In the vast majority of states, the LIS pays a maximum of between $30 and $40 per month to cover Part D premiums.
People receiving the full subsidy but with assets approaching LIS limits may be required to pay an annual deductible of about $65. They may also be required to pay coinsurance charges of up to 15 percent.
People receiving the partial subsidy normally pay affordable monthly premiums based on a sliding scale, an annual deductible of about $65, and coinsurance charges of up to 15 percent.
Everyone receiving Extra Help, whether in the form of the full or partial subsidy, normally is required to pay a small copayment for both brand name and generic drugs. Most Extra Help recipients continue to pay this small copayment until reaching the Part D annual out-of-pocket threshold of $4,750.
Automatic Enrollment
Some Medicare beneficiaries who qualify for the Low Income Subsidy do not have to apply for Extra Help. People who are deemed eligible without having to apply for the LIS can receive the subsidy from the first month of deemed status until the end of the same calendar year.
The Center for Medicare & Medicaid Services (CMS) lists the following categories of people as "deemed eligibles" who are automatically enrolled in Extra Help and should not need to apply:
Full-benefit dual eligibles (FBDEs), meaning persons eligible for both Medicare and full Medicaid benefits
Supplemental Security Income (SSI) recipients, including SSI recipients who do not qualify for Medicaid, and individuals deemed to be SSI recipients
Medicare beneficiaries who are participants in the Medicare Saving Programs (Source: Centers for Medicare & Medicaid Services, Guidance to States on the Low Income Subsidy, page 6)
According to the CMS, deemed eligibles will automatically be awarded the subsidy based on information received from the states and the Social Security Administration. Deemed eligibles will be notified about their eligibility without having to file an application.
Deemed eligibles, like everyone else who qualifies for Extra Help, must join a Medicare Part D prescription drug plan in order to take advantage of the subsidy.
As stated on page 6 of the CMS's Guidance to States on the Low Income Subsidy, "Full-benefit dual eligibles who fail to choose a plan will be enrolled by CMS in a plan effective the month they attain dual status. Also, QMBs, SLMBs, QIs, SSI recipients, and others who apply and are found eligible for the subsidy, will be enrolled in a plan by CMS if they do not choose a plan on their own. "
The intent of the CMS's enrollment of deemed eligibles who fail to choose a prescription drug plan is based on the correct assumption that some coverage is better than none. Yet it is hardly in a senior's best interest to let CMS make such an important decision for him or her. While most Part D plans do offer dependable protection at an affordable cost for the majority of Medicare-eligible Americans, it is often an agent's efforts on behalf of a client that lead to matching that client with the drug coverage he or she really needs, and at the lowest cost possible. Many people who have enrolled in prescription drug plans will attest to the importance of agents in matching them with drug plans that have helped keep them healthy while helping them save thousands of dollars.
One way agents can continue helping their clients stay within budget is by keeping them informed about the Low Income Subsidy. Although the CMS claims that people automatically deemed eligible for the LIS will be informed of their status, there appear to be many deemed eligibles who have not been informed at all and have no idea that they are eligible for Extra Help with their prescription drug costs. It is absolutely vital, therefore, that agents help keep these people informed about their opportunities and their rights.
It is equally important that agents help clients who are not automatically deemed eligible for the LIS determine whether they, too, appear to qualify for Extra Help. If it appears clients and prospective clients do qualify for Extra Help, agents may need to guide them through the application process as well. The sad fact is, too many people who need prescription drug coverage do not get that coverage, often because they believe they cannot afford it. Many seniors need to be informed that the Low Income Subsidy can often relieve their worry and ensure they get the drug coverage they need, and agents devoted to their clients' best interests are in the perfect position to get that very message across.
Top Five Sales Objections and How to Handle Them
Although sales objections are not something many agents look forward to hearing, they can play an important role in helping close a sale.
If you are prepared to respond to sales objections, very often you will be in a great position to settle prospective clients' fears and reduce their hesitancy to buy your product. It is natural for some prospects to get "cold feet" before making a decision to buy your product, and addressing their concerns openly can help you build meaningful and successful business relationships.
Imagine that you and a prospect have arranged a sales meeting. Your contact with this prospect thus far has been positive. Both of you have agreed that a particular Medigap, Medicare Advantage, or Final Expense plan is a valuable purchase that the prospect will greatly benefit from buying, and it appears the prospect is convinced that you are the best agent to buy the plan from. But when the two of you are sitting in a sales meeting, the prospect expresses a concern or raises an objection.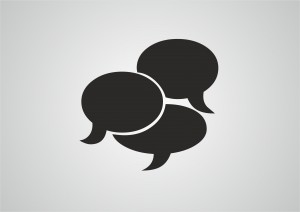 Acknowledge the objection
Such concerns or objections should not be discouraged. If you are prepared to address them, sales objections can actually be one of your best business allies.
Here are the five most common sales objections prospective clients are likely to raise, and ways a resourceful agent can turn these objections into positives.
I'm not ready.

Some prospects simply need to be reminded that delays can cost them dearly. If they are fully aware of how penalties may kick in at a later date, how guaranteed issue rights are only temporary, and how the low rate you are showing them now may not be available at a later date, they are likely to see the advantages of purchasing your product promptly. They may also need to be reminded that they will not have the protection you are offering if the sale is not finalized.

I don't need this.

This is probably an objection that a prospective client would have raised prior to meeting you. Because it is important to focus on your best leads, which LeadMQ makes it easy to do, it is unlikely you would have set up a sales meeting unless the prospect had expressed a need for your product. If you are sitting in a meeting with the prospect, it is likely that he or she is at least considering your product. If the prospect says he or she is satisfied with the service your competitor is providing and does not want to change, it is important to respect that decision. However, it can work in your favor to ask whether your prospect might be interested in better coverage, an expanded network, lower rates, and so on. Sometimes that is all it takes to convince a prospect that he or she in fact does need your product.

I can't afford this.

Sometimes a prospect needs to be reminded of why he or she can't afford not to purchase your product. Being ready to show with dollar amounts just how cost-efficient it can be over the course of a year, or several years, to invest in a particular Medicare supplement plan can tip the scales and help close a sale. A prospect may need to be reminded that some Medicare Advantage plans have no monthly premiums. Maybe a reminder about the cost-saving advantages of a prescription drug plan or an inexpensive dental plan are what a prospect needs to hear. You can greatly relieve your prospect's concerns by being able to discuss plans to fit any budget. LeadMQ allows you to access all the quotes you will need instantly so that your prospective client will be reassured on the spot that you have the perfect product to fit his or her budget.

I think I'll buy this from your competitor.

Often, this is a signal that the prospect is simply not convinced about your product. Again, because the two of you are sitting in a sales meeting, you can usually assume that the prospect came into the meeting with an open mind about purchasing your product. As a result, it is possible that an issue raised during your meeting has aroused some concern. Perhaps the prospect understood the benefits and particulars of what you were selling and was hoping for some sort of discount or different terms. It may even be possible that he or she has been influenced by misleading information from a competitor. If you make the advantages of your product clear and the person insists he or she wants to buy it from a competitor, tell the client you respect that decision and ask why. This may give you the opportunity to clarify questionable or misunderstood information. At the very least, it will leave the door open in the event your prospect eventually decides not to go with your competitor.

I'm not the buyer.

Your prospect may not be the ultimate decision-maker, but since he or she is the one in the meeting with you, chances are your prospect has the boss's ear. Although it would have been better to know the chain of command before sitting in a meeting, it can only work to your advantage to address any concerns voiced by the boss's representative during your meeting. Explain that you would be happy to speak to the decision-maker directly, but do so without undermining the authority of the person you are sitting with, who may well be the one you have to convince.
It can be a tough market, but agents who can turn negatives to positives are the ones most likely to get and stay ahead!
Become a LeadMQ member today by discovering which plan works best for you!